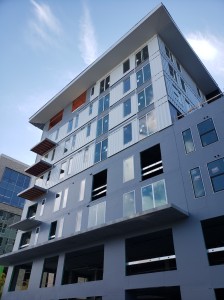 When UMC, Inc. first started, it was a family plumbing business. But as we all know, we transitioned away from residential work and into multi-unit turnkey plumbing and HVAC services. Now, we are an industry leader in the West and working on amazing projects in our three markets of Utah, Colorado, and Idaho. It's not uncommon for our team to work on a project with hundreds of suites!
As we all know, this shift to larger buildings with hundreds of suites didn't happen overnight. We started slow and grew our skillset and team until we could handle such big jobs. But it wasn't just our team that was making the change. The trend was happening across the country.
The peak of apartment construction occurred in the early 70s, with the highest number of buildings constructed between 1972-1974. At the time of this peak, most buildings were smaller, with 50 units or more, so they ended up being just a few stories high. If you drive through older neighborhoods, you can see a lot of buildings like this: three to four stories high and about the length of half a block in a basic rectangular shape.
But apartment and multi-unit construction design has come a long way since then. Now the trend is much larger buildings with hundreds of units. According to the Census Bureau's Survey of Construction, the number of new units in a multi-family building rose 37% from 2018-2019. In the past five years, data shows that buildings with 50 or more units accounted for 57% of all multi-family units. This data indicates that larger-scale buildings with hundreds of units are now becoming the norm.
This shift in the design of multi-family buildings represents a significant design change. Multi-family units are becoming more popular across the country as the cost of single-family homes rises. But why? Here are a few reasons we think this trend is so popular now:
It's a more lucrative investment for developers. A big building with hundreds of units will bring in significantly more revenue for developers than a smaller building. This is especially important for developers building in densely populated areas with expensive land. By building larger and taller buildings, they can maximize their property's value and recoup the project's costs.
Bigger buildings can offer more amenities. One of the ways that developers make large buildings appealing to people is by providing communal amenities. For example, one of our most recently completed projects in Colorado Springs, the Elan Pike Peak building, has a clubhouse, game room, fitness center, dog wash, and bike shop all in the building for residents to use!
We've learned to build them faster! Another reason these big projects are becoming so popular is that we've developed new, faster ways to build them. For example, the average time to complete a building with 20 units or more in 2021 was only 19 months. That might still seem like a lot, but it's a much faster pace, especially for large-scale projects. A lot of this speed comes from using timber instead of all concrete for construction. In addition, a new 'five over one' method of building wood-framed stories over a concrete first floor allows these larger projects to go up much faster and cheaper than a traditional all-concrete build.
Over the years, we transitioned from smaller buildings with fewer units to larger-scale projects with hundreds of units. As you can see, this transition isn't just because we are growing. It's the way the industry is heading. Here at UMC, Inc., we are always ready to tackle new changes and shifts as they come to the world of multi-family construction!