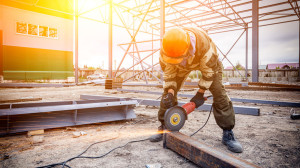 The construction industry has had its share of challenges in 2020 beyond the all-encompassing global pandemic. But none of those other issues have loomed quite as large as COVID-19. According to the U.S. Chamber of Commerce Commercial Construction Index, 85% of U.S. contractors are experiencing delays on at least some projects due to the coronavirus outbreak. Nearly three-quarters of those experiencing delays expect them to continue at least into early 2021. It's no surprise, then, that about 70% of contractors say worker health and safety remains the top concern for their business.
Nearly all contractors said they have made some changes in the way they do business to cope with the virus and help protect their employees. Those changes include:
82% are providing items to protect employee health
75% changed work procedures to increase social distancing
67% allow remote work for office employees
While the global pandemic is currently the top concern within the construction industry by a large margin, number two is a shortage of skilled workers. The chamber said that 83% of U.S. contractors continue to report moderate to high levels of difficulty in finding trained employees, a pre-pandemic problem. Of those that report difficulty finding skilled workers, more than one-third said they have had to turn down work as a result.
Concern about fluctuations in the cost of building materials remains fairly high as well, with 62% of contractors reporting that it has impacted their business. Of the contractors concerned about cost fluctuations, steel and lumber are the top issue. Shortages of some materials — an issue aggravated by the pandemic — have been a problem as well.
Where does the industry go from here? Contractors are cautiously optimistic. Confidence in the ability of the market to provide new business in 2021 is rising, although it's significantly below pre-pandemic levels. Revenue expectations are slightly more optimistic than they were in early 2020 and contractors generally believe that pandemic-related delays will start to abate in the coming months. According to Dodge Data & Analytics., the value of U.S. construction projects fell 14% to $738 billion in 2020. For 2021, 4% growth is projected.
At UMC, Inc., we've been serving the plumbing and HVAC needs of Utah for more than 47 years. Our mission is to provide prompt, professional, quality plumbing and HVAC services to our customers while building a reputation of being honest and committed to customer satisfaction. Get to know more about us on our website: https://umc.us/.