The Idaho branch of UMC, Inc. has been hard at work on several projects over the years. But as most of our Idaho employees will tell you, it's been a challenge without an office or warehouse in the state. The team has only been able to take on plumbing projects and hasn't yet been able to start bidding on HVAC jobs. But all that will change with the new UMC, Inc. Idaho office!
We recently spoke with Lee Bassard, the project executive for Idaho, about the new office building and how it's come together. He told us this plan has been in the works for several years. The land was purchased four years ago, but COVID hit, and the branch was overwhelmed by new projects, so construction was delayed. Now, with the right team in place, it's time to get building. The groundbreaking ceremony recently took place for the new 7,000-square-foot office space, including a full warehouse for HVAC fabrication. The goal is to finish the project by the first quarter of 2024.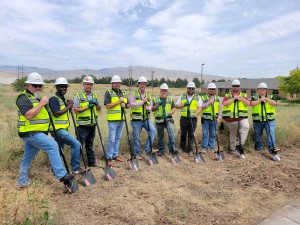 The new office space will be a massive asset for the Idaho branch. Lee described the Idaho branch as having more of a start-up feel over the past few years. Between working out of temporary office space and having management in Utah, managing things was very challenging. But with a full-time management team in Idaho now, the team is ready for the next challenge. So UMC, Inc. is committed to the Idaho sector with a permanent office space that will allow the team to take on larger projects, expand into the HVAC sector in Idaho, and meet with potential partners and clients in a more professional setting.
The new build site is located just on the east end of Boise, with close access to downtown, so it will be perfect for future downtown projects! Even with the temporary office space, our Idaho team did some fantastic work in the past few years in Idaho. We finished up plumbing work for several large projects like Sunset Landing, the Limelight Project, and The Verve project is also set to close up soon. Next up, the team is involved with several significant projects, including a partnership for plumbing work with Andersen Construction on the Capitol Student Housing Project in downtown Boise for Boise State University. This housing project will be a huge asset to the university and an exciting challenge for the team! But one of the most exciting projects the Idaho team has coming up is at Hidden Paradise for Camp Rainbow Gold. This unique organization offers empowering outdoor experiences for Idaho children diagnosed with cancer, disabling illnesses, and others in need. Our Idaho team is partnering with Andersen Construction to build Hidden Paradise on-site medical facility. It will be Idaho's first medical camp that is fully ADA-compliant and will offer summer camp experiences for children with cancer or other medical issues. It's an extraordinary project that allows our team to give back to the Idaho community that has welcomed us!
As Lee says, things are changing fast in the Idaho branch, but the goal remains the same. The team is committed to being an industry leader for multi-family plumbing and soon for multi-family HVAC services in Idaho. With this new office space and exciting projects on the horizon, we know that our Idaho branch is poised to do great things!