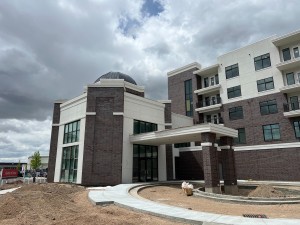 Our Utah plumbing team recently finished work on a new 55+ luxury adult community building, the Bri at Station Park. Located in Farmington, Utah, this project was managed by our great partners, Andersen Construction, and is owned by the Brighton Corporation. With 170 apartments over five stories and with underground parking, this unique community has everything you could ever want to enjoy in your retirement.
So, what type of amenities can make your retirement years great? At the Bri on Station Park, you have almost everything you can imagine. First, the building surrounds a beautiful central courtyard perfect for hosting friends and family or enjoying the on-site events held by the facility. When you live at the Bri at Station Park, you can enjoy all the wonders of nature without worrying about yard work!
But the courtyard is just the beginning of the outdoor amenities. This incredible project has so much more, including a pool with a hot tub, an outdoor kitchen for entertaining, an outdoor fireplace with seating, an outdoor fitness deck, and for the pet lovers, an on-site dog park with a pet wash! They also have a wide arrangement of activities for you to enjoy outside, like pickleball, a walking club, trail bike riding, and even golf pro tip classes you can try too.
When you step inside the Bri at Station Park, the luxuries continue. There is an on-site gym for members to use, a theater room with a built-in starlight ceiling, a 9,500-square-foot clubhouse, bike storage, parcel lockers, and plenty of storage space for all your collectibles and heirlooms! You may be downsizing and moving into an apartment suite, but your life is about to open up when you live at the Bri at Station Park.
The amenities are just part of the appeal of this fantastic community. The units are incredible. There are three floorplans: a one-bedroom, a one-bedroom plus den, and a two-bedroom floorplan. The units have 9-foot and 10-foot ceilings, rustic wood floor planning, an in-home washer/dryer, walk-in closets, and beautiful designer finishes. We loved installing the plumbing fixtures in these units! Each unit also has a private balcony, Dwelo smart home technology, and a digital thermostat for heat and A/C. If you've been waiting all your life for designer finishes in your home, you'll love living at the Bri at Station Park.
Downsizing to a smaller space when you retire shouldn't mean that your life gets smaller. It should mean that you have the time and space to enjoy yourself. When you move into the Bri at Station Park, you have everything you need and then some so you can enjoy your golden retirement years. After all, you've worked hard for this time, and you should enjoy it. We're so proud to have worked on such an incredible project like this with our talented partners. This community building will be a special place in Farmington, and we're so happy to have had a part in bringing it to life!